Welcome to JPEF
Jothydev's Professional Education Forum
Jothydev's Professional Education Forum(JPEF) was established with the sole objective of imparting basic and advanced knowledge in diabetes for professionals involved in the care of diabetes. Diabetes is a very complex disorder where the success of treatment depend on team work, updated knowledge of professionals and commitment to continuous learning.JPEF impart the best to modern medicine doctors and the entire team for the successful in clinic management of diabetes.
In addition to major global annual conventions, Mini JPEF CMEs are being organised very frequently. These web pages provide you with abridged information of our past and future scientific events. We invite all of you to be part of JPEF and enrich your knowledge on diabetes.
JPEF 6th
Annual Global Diabetes Convention 2018
11th & 12th August 2018 at Uday Samudra beach hotel, Trivandrum, Kerala
The biggest Annual International Diabetes learning festival of Kerala, JPEF is scheduled on 11th & 12th August 2018 at Uday Samdura, Kovalam, Trivandrum. We have the best of speakers from all over the country and from USA, Europe, UK etc. lecturing, debating and interacting with the intellectual audience.
The theme of the 6th JPEF 2018 is 'Diabetes: fighting the battle together'.
Never miss it!!
Welcome and get registered at the earliest to ensure your seats.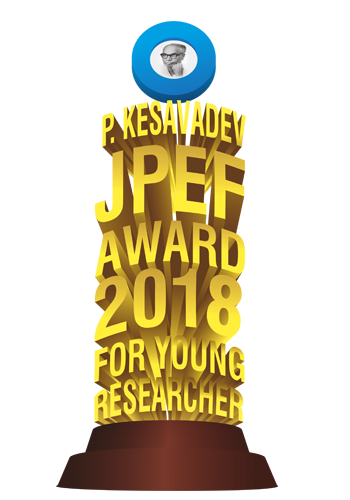 Announcing and accepting applications for
P.KESAVADEV JPEF AWARD 2018
for young researcher in India
CASH PRIZE - Rs.1,00,000
THE SECOND PRESTIGIOUS P. KESAVADEV JPEF AWARD FROM
6th JPEF Anual Global Diabetes Convention
1. The award will be for an young researcher and the original work should be unpublished at the time of submission.
2. The Award will carry a cash prize of Rs.100,000, gold medal, citation and travel grant.
3. He/she should be aged 40 years or less and can be from any speciality of medicine or a basic scientist or from any other branch of science or nutrition. The research should contribute to the science of diabetes care, treatment of complications or prevention.
4. Research should be original, entirely done in India and should enrich or contribute to original diabetes research in India.
5. Applicants should send their complete biodata and details of their research work to the following email: jpefaward@jothydev.net
6. Last date of submission will be July 10, 2018
7. Final decision will be taken by the Kesavadev JPEF Award Committee members after intense scrutiny of all applications.
"PRESENT YOUR RESEARCH AND GET RECOGNISED!!"
PRIZES WORTH Rs.50,000
We are inviting Modern medicine doctors, Dietitians, Researchers and Allied healthcare professionals to submit their original scientific research abstracts related to the field of diabetes to 'Jothydev's Professional Education Forum(JPEF) Annual Diabetes Convention 2018'.
Please submit your abstracts here
Or
Email to jpefaward@jothydev.net
Abstract submission deadline: Sunday, 15th July 2018, 23:59 p.m. IST.
Download SCIENTIFIC PROGRAM BROCHURE
Want to know more about the two day power packed Annual Global Diabetes Scientific educational convention on 11th and 12th August 2018, organised by JPEF under the aegis of P. Kesavadev Trust in association with DiabetesIndia.