DOWNLOAD SCIENTIFIC PROGRAM
For the minute to minute details of the two day power packed Global Diabetes convention in the three halls click here
"PRESENT YOUR RESEARCH AND GET RECOGNISED!!"
PRIZES WORTH Rs.50,000
We are inviting Modern medicine doctors, Dietitians, Researchers and Allied healthcare professionals to submit their original scientific research abstracts related to the field of diabetes to 'Jothydev's Professional Education Forum(JPEF) Annual Diabetes Convention 2018'.
Please submit your abstracts here
Or
Email to jpefaward@jothydev.net
Abstract submission deadline: Sunday, 05th August 2018, 23:59 p.m. IST.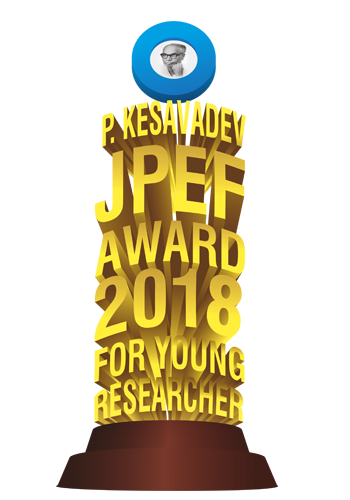 Announcing and accepting applications for
P.KESAVADEV JPEF AWARD 2018
for young researcher in India
CASH PRIZE - Rs.1,00,000
THE SECOND PRESTIGIOUS P. KESAVADEV JPEF AWARD FROM
6th JPEF Annual Global Diabetes Convention
1. The award will be for an young researcher and the original work should be unpublished at the time of submission.
2. The award will carry a cash prize of Rs.100,000, gold medal, citation and travel grant.
3. He/she should be aged 40 years or less and can be from any speciality of medicine or a basic scientist or from any other branch of science or nutrition. The research should contribute to the science of diabetes care, treatment of complications or prevention.
4. Research should be original, entirely done in India and should enrich or contribute to original diabetes research in India.
5. Applicants should send their complete biodata and details of their research work to the following email: jpefaward@jothydev.net
6. Last date of submission will be Sunday, August 05, 2018
7. Final decision will be taken by the Kesavadev JPEF Award Committee members after intense scrutiny of all applications.
JPEF 6th
Annual Global Diabetes Convention 2018
11th & 12th August 2018 at Uday Samudra beach hotel, Trivandrum, Kerala
With great pleasure we invite each one of you to be a part of the much awaited Annual Global Diabetes Educational Convention - the biggest diabetes educational event in Kerala - 6th Jothydev's Professional Education Forum (JPEF) Annual Global Diabetes Convention to be held on 11 & 12 August 2018, organised by JPEF under the aegis of P. Kesavadev Trust in association with DiabetesIndia.
The theme of the 6th JPEF Annual Global Diabetes Convention is 'Diabetes: Fighting the Battle Together'.
We will be introducing new learning styles this year, quite different from the conventional conference platforms with more than a dozen international faculty and hundred distinguished speakers. This excellent scientific event will offer modern medicine doctors, students, dietitians and allied healthcare professionals a memorable opportunity to interact, imbibe and implement them in clinical practice.
The contemporary Uday Samudra Hotel located at the famed beaches of Kovalam will serve as the convention centre, hardly 20 minutes drive from the airport. Located just 15 meters from the sea, Uday Samudra is an exclusive 5-star beach hotel - a destination by itself. Comfortable accommodation is also available for the delegates at Kovalam's top-rated hotels like The Leela, Taj Cove, Uday Samudra, Turtle On The Beach and many more.
Join us, learn, get inspired, and together let us fight and win the battle of diabetes.
Welcome and get registered at the earliest to ensure your seats.
Date : 11th & 12th August 2018
Venue : Udaya Samudra, Five star beach hotel, Kovalam, Trivandrum, India
DOWNLOAD SCIENTIFIC PROGRAM
INTERNATIONAL FACULTY
Dr.John Pickup
(UK)
Dr.Richard Donnelly
(UK)
Dr.Robert Vigersky
(USA)
Dr.Sunder Mudaliar
(USA)
Dr. Santhosh K.G. Koshy
(USA)
Dr.Bhargav Sosale
(Singapore)
Dr.Raghavendra Bhat
(Oman)
Ms.Aishath Shiruhana.R
(Maldives)
Ms.Aminath Abdul Rahman
(Maldives)
NATIONAL FACULTY
JPEF Organising Committee
Local Organising Committee
National Scientific Committee
Local Scientific Committee